Center of Didactics of Biology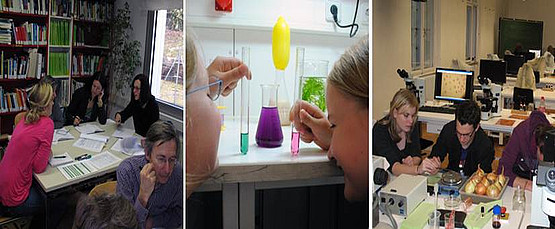 The Center for Didactics of Biology of the University of Graz coordinates the pre-service teacher education in biology. Together with colleagues from the various departments we organize and offer courses in all fields of biology (botany, ecology, environmental studies, microbiology, molecular biology, zoology).
Overview: The overall aim of the Center for Didactics of Biology is to develop and establish didactic methods and concepts with a special emphasis on sustainability. Since we want to improve the quality of biology teaching at school, we take care to link theory and practice in all our courses for pre- and in-service teacher education at all school levels. In particular, we aim at developing strategies to increase the number of experiments conducted in biology lessons. Thus work at the Center for Didactics of Biology focuses on the implementation of results from practical and theoretical research projects. The Center for Didactics of Biology helps to provide information exchange between experts from various educational institutions (school, university, science, school authorities). Furthermore, our library offers a lot of material for lesson planning and didactic literature for research projects. In January 2009 we celebrated the foundation of the Regional Education Competence Centre for Didactics of Biology.
Contact
Head
Mag. Dr.
Astrid
WONISCH